Disclosure: The links on this page are "Affiliate Links" and while these are shown at no costs to our viewers, they generate commissions for our website(s)
Interior Design Trends You're Totally Missing Out On
Ever check out the pages of your favorite glossy magazine to be confronted with a gorgeous interior that leaves you feeling teeming with envy? Interior design is an absolute art form and those that get it right manage to create fabulous works of art all while making it seem completely effortless. Style.
You know how they say life imitates art? Well, this is definitely the case when it comes to interior design and hot it applies to your living space and daily lives. The source of many interior design trends stem from fashion and arts trends of the same time-frame. What's great about this piece of information is that it becomes possible to anticipate future trends and adjust homes accordingly for a classy, luxe contemporary vibe to be the envy of all of your neighbors.
Even though we're nearing the third quarter of the year – it's nonetheless never too late to dive hopelessly headfirst into the hottest trends. So what are they for this year? Well, you're in luck, because we've got the list.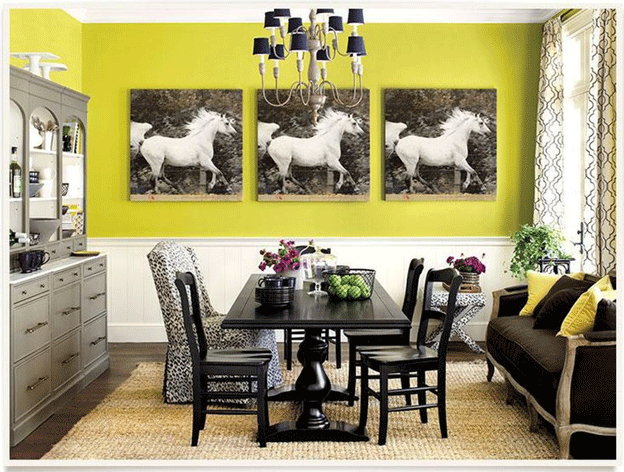 Chartreuse
Let's be honest – you either love it or hate it. But regardless of your feelings, this color is red hot. It was even crowned the Pantone Color of the Year for 2017 . It's refreshing and energizing hue breathes exuberance into any décor interior and gives it that awesome pop of color that we all love to see. Use it on an accent wall or for various accessories in the home to give an added sense of inspiration.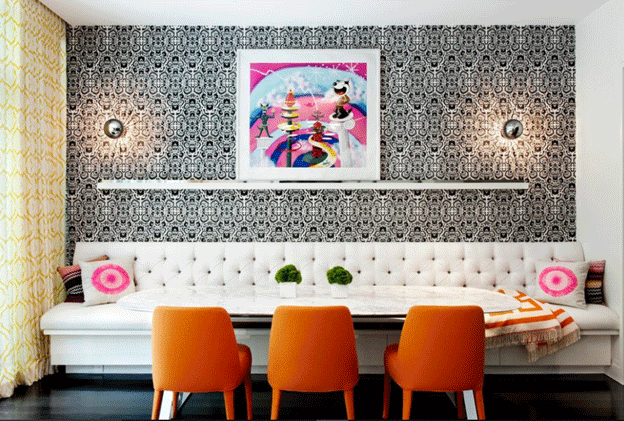 Mixed Patterns
This trend showed up all over the runways of NYFW this past fall in 2016 and continues to make a presence in the spring and summer trends as well. Mixed patterns and bright colors are extremely popular now as a result.
They are best used when done as an accent piece, but can work wonders when paired in fresh, fun and funky ways. Gone are the days when mixing and matching was for the bold and daring pre-kindergartener. This trend is totally hot. Keeping the colors within the same family tends to work best. Oranges matched with yellows and bright colors paired with monochromatic patterns are always sure to wow. So, get creative! Let your inner child roam free! 
Faux Finishes
These are popping up everywhere and anyone who is no stranger to Home Depot will tell you how amazingly fabulous thy are. Faux materials are a more economical version to their pricier siblings however offer the decadence and chicness of their less cost-effective counterparts.
We are finding them all over the place from faux fur rugs to faux wood ceilings and leather counter-tops. It is pure madness and we've definitely drank the Kool-Aid. Engineered quartz has become a popular replacement for marble which is absolutely gorgeous for kitchen and powder room accent walls. Check out this marble wallpaper on Etsy to get your creative juices flowing.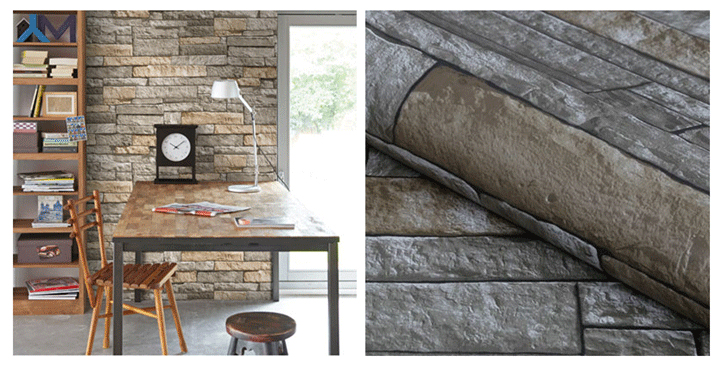 Texture
Texture has been trending for quite some time now and in 2017 the rage is still going strong. From textured wallpaper that gives the appearance of stone or wood to textured furniture and accent pieces. Push-pins, pleats, folds in fabrics, especially velvet as well as bold and in-your-face stitching has made an awesome comeback. Plush, soft and decadent fabrics are making a trend as well such as mohair. Check out this awesome stone wallpaper which would be perfect to add to the rustic vibe of a home office or kitchen wall. 

Bone White Ceramics
This raw and organic look is making a huge trend in 2017. It has recently been seen all over the art world with several exhibits, including Walter McConnell's Freer|Sackler display showing the amazingly elegant and organic beauty in these designs. The key here is the clean and organic touch that bone white ceramics add to an interior. They imbue a sense of pristine serenity and natural elegance. We are absolutely in love with these and cannot get enough of them as accent pieces.

Navy Blue
So apparently blue is the new black. We've seen an endless amount of references to the chicness and luxe aesthetic that navy blue can offer to an interior when done properly. Used as an accent wall trimmed in white it looks effortlessly classic. When paired with bright colors such as bone white and other and brilliant pops of yellows and reds, it is a visual dream.
The color can also be paired with neutrals in various tones to give a rich feel and when greenery is added to the scene it can become practically magical. Now, there are various shades of navy blue to choose from, however our favorite are the jewel toned versions for this season. So, don't be scared – add a nice rich splash of color to your living room for an added degree of decadence you never knew existed.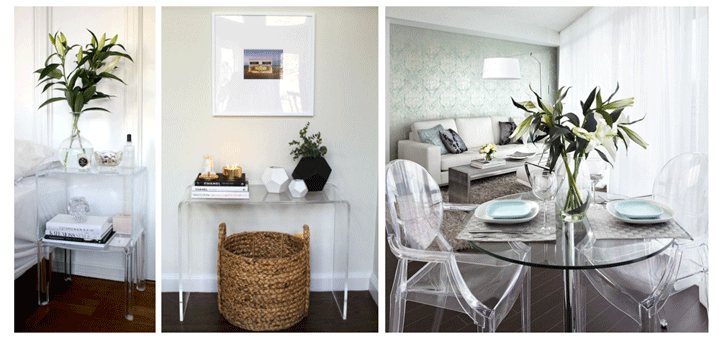 Acrylic Accents
Remember how cool acrylic backpacks and vinyl handbags used to be. Remember how they totally classified those as vintage and reincorporated the into contemporary fashion? Now the trend is taking interior design by storm. Everything from bar stands to end tables and entire swaths of furniture sets are popping up as acrylic.
Accent pieces are also absolutely hot and on trend as well and make for an awesome pristine and clean, contemporary aesthetic. We are absolutely in love-lust with this gorgeous Adair coffee table . It even has little folds to keep books and magazines for storage and display. The funky design adds to the aesthetic, however with this simple material, minimalist is most popular.
Interior design trends are heavily influenced by trends in fashion and art and as a result they can change just as quickly. However, sticking with classic fundamentals and minimalist designs is imperative when trying to take advantage of an awesome trend without having to constantly switch up your living room faster than Milli Vanilli's music career.
While chartreuse is the obvious color du jour, brilliant pops of bright and vibrant colors will liven up an interior regardless of the season, context or setting and will always invigorate a room. Acrylic accents may be hot right now but the minimalist designs are sure to keep them cemented in relevancy and mixed prints can always be funky and fresh regardless of the era of style. So get creative! Make your home your masterpiece and experiment with some of these awesome trends today!